Resolution settings, see bit rate…
ALT + SHIFT
Shows control bar at the bottom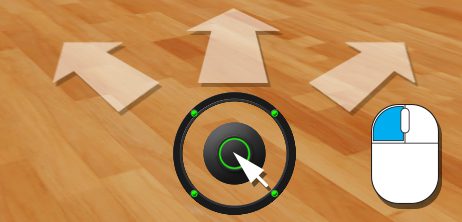 Virtual Joypad movements
Hold left click on the joy.
and move the cursor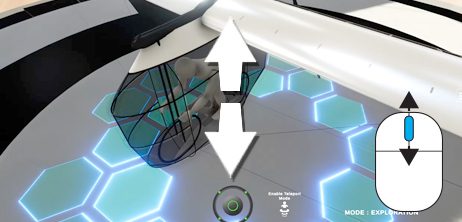 See above / below
Mouse wheel up/down
Wheel click = neutral position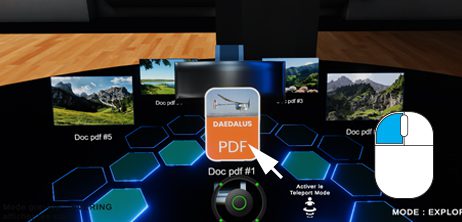 Interact with objects
Left clic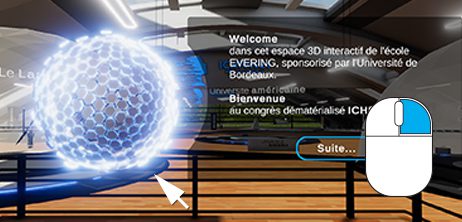 Call Cyber-Agent guide
Right click to make it appear
Left click on it for menu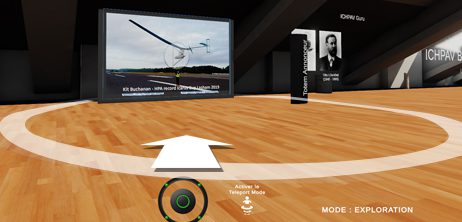 Automatic interaction
Approaching the demarcated area
by a white circle
*Type of connection required for a more comfortable user experience: Fiber, or equivalent in terms of speed

To follow a live conference you can also visit our Youtube channel:
In search of endless flight

Friday 11, 2pm GMT (15h french time)
Gossamer Condor & Gossamer Albatros History

Friday 11, 4pm GMT (17h french time)
Analysis of the Ergonomic concept of Public Transportation in the city of Campinas (Brazil)
by Gabriel Gomes de Oliveira

Saturday 12, 11am GMT (12h french time)
The SUHPA project and the Super - Lazarus Human Powered Aircraft

Saturday 12, 4pm GMT (17h french time)
The Flying Fish Human Powered hydrofoil watercraft
Saturday 12, 5pm GMT (18h french time)
HPA as sport*
bt Alec Proudfoot (* To confirm)
Sunday 13, 4pm GMT (17h french time)
French HPA evolution is it a sustainable transport ?*
by David Reungoat (* To confirm)
Sunday 13, 5pm GMT (18h french time)


WHITE PAPERS
At the end of the congress, various white papers are written. Each white paper covers a specific topic and feedback. Chaque livre blanc couvre une thématique et des retours d'expériences particuliers.
These documents will be made available gradually on this web page and will also be available for consultation in the interactive 3D showroom which will remain freely accessible throughout the year and which will be enhanced at the next congress.
Alec Proudfoot is the director of the DaSH human-powered aircraft project.
He was the engineer of Google Inc. which launched the RechargeIT plug-in vehicle project.
At AeroVironment, he was a member of the engineering team that created the GM Impact prototype. The Impact went into production as the GM EV1, the first modern high-powered AC induction electric vehicle and it is the granddaddy of all modern electric vehicles like the Tesla, Leaf and Volt.
Paul was an American engineer specializing in aeronautics, founder in 1971 of the firm AeroVironment and the designer of the human-powered aircraft that won the first Kremer Prize.
In 1956 he won the title of international gliding champion.
He designs HPAs such as the Gossamer Condor, the first human-powered aircraft to win the Kremer Prize in 1977, and the Gossamer Albatross, the first to cross the English Channel in 2 hours and 49 minutes in 1979.
He is considered one of the fathers of modern HPA engineering.
It's not too late to register. Do not hesitate !
The deadline for submitting a "poster" or a presentation that will be the subject of a conference or workshop is January 15, 2022.
However, registrations remain free and open to the general public until the last moment if you wish to participate as a "simple spectator".
Register quickly to have access to all the activities offered, as well as your VIP access to the interactive real-time 3D lobby in which the HPA and DaSH machines will be presented in 3D as well as numerous media and documents on the machines at human muscle propulsion.